The Chairman, Council of Elders, Ohanaeze Ndigbo, Chief Emmanuel Iwuanyanwu, has condemned individuals described as political rascals for the ethnically charged rhetoric against the Igbo in Lagos State.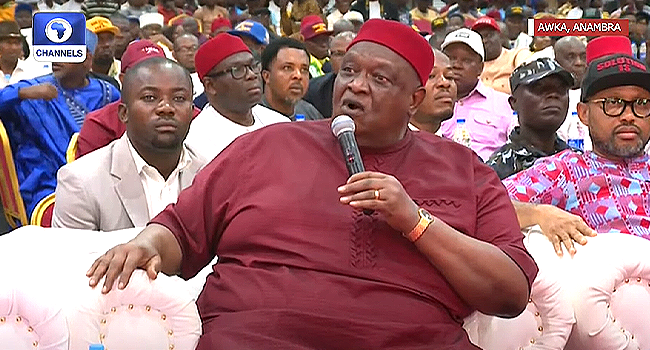 In the midst of the elections, particularly last Saturday's governorship election, incendiary dialogue led to targeted attacks on voters of southeastern extraction.
"I want to tell those in Lagos to realise that there is no war between us and Yorubas. They are just political rascals, and we're going to handle them," Iwuanyanwu said Saturday at a ceremony in Anambra State to commemorate Governor Chukwuma Soludo's one year in office.
"The elders have directed the secretary general of Ohanaeze Ndigbo, [Okey] Emuchay, to set up a commission of inquiry to find out things destroyed; people are going to pay."
The Ohanaeze leader stated that he called a meeting of Ohanaeze Council of Elders worldwide on Wednesday, who X-rayed the events in Lagos.
"I want to tell you that people who attended from our branches in America, Canada, Europe, London and Nigeria have resolved and I want those from Lagos to go home and tell those in Lagos," he said.
"We have resolved that never again can we allow anybody to take the life of any innocent person. All of us are going to fight the person. Never again!"
The Igbo elder asserted that southeastern natives were fellow Nigerians who had "so much" investments in the country. Reacting to the rhetoric ordering Igbo sojourners to leave other regions, he said, "We are not going anywhere."